The one thing people love more than spending a day on the rivers and lakes of the Twin Lakes area is topping that day off celebrating the Red, White, and Blue with fantastic fireworks displays!

On the lakes, onlookers can enjoy a variety of spectacular fireworks displays lighting up starry skies and reflected on the smooth water. There is nothing better than watching these displays from a boat. If boating isn't your thing, land lovers can find a cozy spot on the shoreline to lay back on blankets and look skyward. Local Bull Shoals Lake fireworks shows can be found at the Bull Shoals dam, at Pontiac Cove Marina and at Theodosia Marina. Fireworks shows on Lake Norfork are on July 3 at the twin bridges in Henderson, and also at Cranfield Marina. Fireworks in Arkansas are among the best displays in the country. Spectators never cease to be amazed by the professional displays that last for at least half an hour. Specific dates and details can be found on our Events Calendar; check it often for updates and activities for you and your family.

And finally, you can not miss the Red, White, Blue Festival in Mountain Home. This festival, held every year the weekend BEFORE the fourth of July, has grown into a weekend-long event that draws visitors from across the country. Kick off your holiday on the campus of ASU Mountain Home, with the many family friendly activities like turtle races and climbing walls, delicious varieties of food, vendor booths, live musical entertainment, a parade, car and tractor shows, a two-night rodeo, and one of the largest fireworks shows in the eight-state region. The professional display has been called one of the "best in Arkansas," lighting up the sky with jaw dropping displays with the latest in pyrotechnics.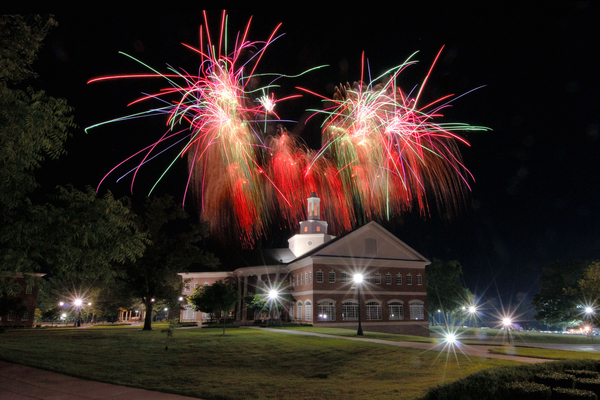 All the details of the 17th annual Red, White, Blue festival can be found at www.redwhitebluefestival.com. Make plans now to bring your lawnchairs, your blankets, and your friends and family and get ready to enjoy a wonderful patriotic weekend!

There is no better place to celebrate and remember our country's heritage and freedom than in Mountain Home, Arkansas! Come celebrate Red, White, and Blue with us this summer.