Baxter County Historical & Genealogical Society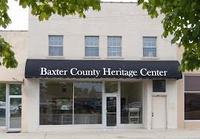 The Heritage Center at 808 South Baker, is open on Tuesday and Thursday every week from 12:00-4:00 pm. Appointments can be made for different days or times. Buford School House Museum is available for rental.

Other Historical Society buildings: Former Baxter Bulletin at 511 South Main, Mtn. Home and The Casey House at the Baxter County Fair Ground.

Club meets every fourth Tuesday at 6:00 p.m. check Facebook or website for location.

President: David Benedict

Vice President: Jennifer Baker
Mailing Address:
P.O. Box 2125
Mountain Home, AR 72654