Baxter County Historical & Genealogical Society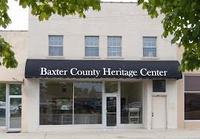 The Heritage Center, located at 808 South Baker Street, is open on Tuesday and Thursday every week from 12:00-4:00 pm. Appointments can be made for different days or times.
Historic Properties:

The Buford Schoolhouse Museum: This building is owned by the Historical Society and is available to rent for special occasions. Please call to check for availability.

The Casey House: Although owned by Baxter County, the Historical Society is responsible for the maintenance of this property, which is located adjacent to the entrance of the Baxter County Fairgrounds.
Our organization meets every 4th Tuesday at 6:00 p.m. at the Baxter County Library. Occasionally we will hold a special meeting at another location and/or time. Please check our Facebook page or our website for meeting details.

President: Maryanne Edge

Vice President: Kevin Bodenhamer
Mailing Address: P.O. Box 2125, Mountain Home, AR 72654-2125