Fout Boat Dock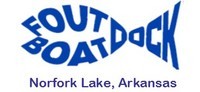 Located in a quiet arm of Norfork Lake, Fout Boat Dock is your summer fun destination nestled in the pristine Ozark Mountains. We have all the water sports action you can rent, from wave runners to pontoons, and all the accessories like life jackets and tubes to pull behind our boat or yours. We can hook you up!
Even on busy holiday weekends, you'll find plenty of lake space for wide-open boat cruising and watersports like tubing, skiing, and boarding. You'll find quiet spots for fishing, swimming, and relaxing. This is a scenic part of Norfork lake, and there are very few buildings visible along the shoreline. If you enjoy hunting and wildlife watching, the Bennetts Point Wildlife Management Area is right across the lake from us.

The Gamaliel Campground, which is owned and operated by the U.S. Army Corps of Engineers, has one of the flattest shoreline use areas on Norfork Lake. There are no steep, hard-to-walk inclines. There is a public swimming beach, a covered pavilion, a playground, and a public boat launch with a courtesy dock. All roads, the launch, and all parking areas are paved so you don't have to worry about dust.
Fout Boat Dock is located close to but does not manage or operate the Gamaliel Campground.
Fout Boat Dock's physical address is 2932 Fout Road, Gamaliel, AR 72537. We are 25 minutes from Mountain Home and 45 minutes from West Plains. The road is paved all the way down to our docks. To locate Fout Boat Dock on a map first find the town of Gamaliel (pronounced ga-mail-ya) on Highway 101 just south of the Arkansas/Missouri border. Gamaliel is just north of the lake. We are on the Norfork Lake shoreline just below the town of Gamaliel at the Gamaliel Campground. If your map shows lake navigation points, we are between points 6A and 6B.