KPFM/KKTZ/KOMT Twin Lakes Radio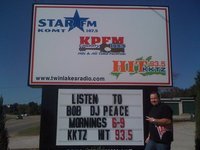 KKTZ HIT 107.5
KKTZ Hit 107.5 FM is a 100,000 watt station playing Hot A/C. Reaching an 18-34 age group. Hit 107.5 plays the best mix of music from the 90s through today. The Acumen Audio Big Morning Show with DJ Peace (Bob Van Haaren) weekdays 6-9AM, The Rick Dees Weekly Top 40 Countdown on Saturday mornings 7-11AM and The Daly Download with Carson Daly Sunday mornings from 7-11AM! This station can be heard as far away as Springfield, Missouri and Heber Springs, Arkansas.
KPFM Country 105.5
KPFM Country 105.5 FM is a 50,000 watt station playing country music since 1985. A tradition beginning with KPFM debuting as the sole country FM station in the Twin Lakes Area in 1985. Enjoy The Bobby Bones Show, weekday mornings from 5-10AM and Weekday Afternoons it's T Time with Tim Tibbs. Saturdays catch Racing Country 7-9AM and The Crook and Chase Countdown 12-5PM! Sunday afternoons Bobby Bones is back with The Country Top 30 Countdown from 12PM-4PM! KPFM reaches a 25-59 age demographic of both males and females.
KOMT The Eagle 93.5
KOMT The Eagle 93.5 is a 50,000 watt conservative & Christian talk radio station, featuring Hugh Hewitt, Mike Gallagher, Dennis Prager, Dr. Sebastian Gorka, Mark Levin, Eric Metaxas and Coast to Coast AM with George Noory Monday-Friday 10PM-5AM Saturday and Sunday 12am-5am and Classic Coast to Coast Somewhere in Time with the late Art Bell Saturday Nights 8PM-12AM On Air only tune in for Razorback Sports!! The Razorback Report, Coaches Show, Football, Basketball and Baseball.