KPFM/KKTZ/KOMT Twin Lakes Radio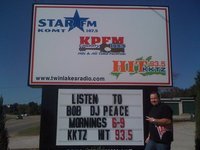 STAR FM KOMT 107.5
Star FM KOMT 107.5 is a 100,000 watt station playing Adult Contemporary. Every song is selected for its proven appeal to the target audience of adults 25-54 and specifically the 35-49 core. Listen to music from the 70s-80s-90s with the right amount of today's hits! No Rap! No Hard Rock! No Alternative Music! Plus, tune in for Razorback Talk and Sports: Baseball, Football, and Basketball. This station can be heard as far away as Springfield, Missouri and Heber Springs, Arkansas.
KPFM Country 105.5
KPFM Country 105.5 FM is a 50,000 watt station playing country music since 1985. A tradition beginning with KPFM debuting as the sole country FM station in the Twin Lakes Area in 1985. KPFM reaches a 25-59 age demographic of both males and females.
KKTZ HIT 93.5
KKTZ Hit 93.5 FM is a 25,000 watt station playing Hot A/C. Reaching an 18-34 age group. Hit 93.5 plays the 80s, 90s & Now. Bob Van Haaren (DJ Peace) weekday mornings & Rick Dees Weekly Top 40 Countdown on Saturday mornings.
Contact: Stewart Brunner