Potter Block
Potter Block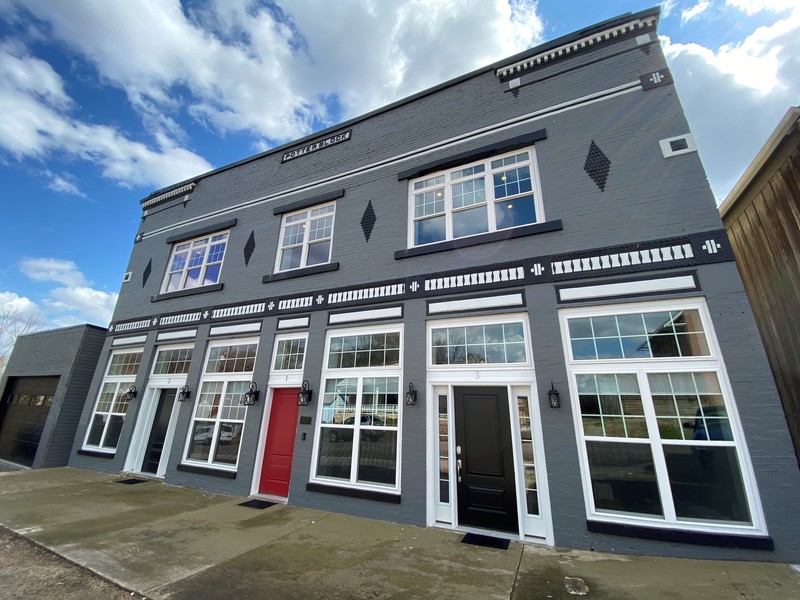 210 South Avenue APT 1

Cotter , AR 72626
"Potter Block" was built in 1921 by Seth James Potter and was first set up as a Saloon & a Salon in the downstairs spaces with living quarters above. The home was given a face lift back in the 1970's which provided local residents with permanent housing for many years.
After transitioning from the U.S. Army, my wife and I found our way back home to the community that loved and supported us for so many years, we purchased "Potter Block" and saw the potential that this historic building had and knew that we could help bring new life to the street & our hometown. When we purchased the home, it was in major need of repairs as much of the maintenance had been deferred for many years. Time had taken its toll on "Potter Block", but we had a vision and the passion to make an impact, which has truly been a labor of love!
When we started with "Potter Block" there were two apartments downstairs (each with 2 bedrooms / 1 bath) and two apartments upstairs with one (2 bed / 1 bath) and the other (1 bed / 1 bath). The vision was to make one large apartment (3 bedrooms / 2 baths) upstairs as the primary residence and keep the main concept of two apartments (2 beds / 1 bath) downstairs. Opening the layout upstairs gave Kammi (my wife) a blank slate to start with and she was able to make the space fit our needs and desires. The plan changed a few times throughout the process, but the main concept stayed the same and what we ended up with is a true work of art! Kammi's gift for design and true eye for beauty, allowed her to create something that is truly one of a kind and a pleasure to call home!
Cotter, Arkansas boasts some of the world's best trout fishing and is a magnificent place to relax for a weekend or the summer. You might fall in love with the area and decide to call it home like so many others!
Our home is listed on Air B&B for ease of reservations, payment & communications. There are nightly rates plus a cleaning fee that ensures all of our guests stay in a healthy and clean environment and that our space always looks great! All of our sheets, Towels, and Duvet covers are cleaned and sterilized after each use. This ensures that each guest can rest assured that they are being taken care of! We have found that many nightly rentals only clean blankets and comforters once a month or even less and this was something that we did not want for our space! We would want ALL of our bedding cleaned fresh before we got there and we want that same quality for each of our guests!
You can find our listings here-Apartment 2:
https://www.airbnb.com/rooms/39173252?s=67&shared_item_type=1&virality_entry_point=1&sharer_id=109428750
Apartment 3:
https://www.airbnb.com/rooms/39175228?s=67&shared_item_type=1&virality_entry_point=1&sharer_id=109428750
We hope you enjoy our home as much as we do and we welcome you to come stay for a few nights or even longer!