The Salvation Army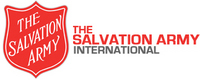 We here at The Salvation Army Mountain Home Corps would like to invite you to take advantage of the many programs we have throughout the week.
Food, Clothing & Bed Vouchers (If Available): Monday, Tuesday, Wednesday, Friday from 9:00 A.M.-12:00 P.M. & 1:00 P.M.-3:00 P.M. Financial Assistance: Appointment Only.

The Salvation Army also offers seasonal assistance programs like Project Create (Summer Program), Shoes, Socks & Skivvies (Back To School Program), Kids Klub (After School Program), Angel Tree (Christmas Program) as well as sending kids to summer camp. Pastoral counseling & youth character-building programs are also available. The Salvation Army works in conjunction with other area agencies and will refer clients when necessary.
Mailing Address:
P.O. Box 650
Mountain Home, AR 72654