The Strother Firm, P.A.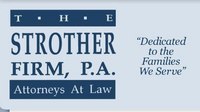 The Strother Firm, P.A., located in Mountain Home, Arkansas, is a professional association of lawyers serving the north central Arkansas area. The law firm is comprised of attorneys Lane H. Strother, Judith C. Strother and Jodi L. Strother. Our firm is fully committed to providing reliable legal services to our clients. Individuals needing legal advice will find a supportive environment when they call or visit our office. Telephone calls are returned promptly and respect is shown for our clients' time and circumstances.
We understand that clients are often in confidential and difficult situations when they seek legal advice and assistance. We work to alleviate this stress by providing clear, complete, and competent information to assist clients in making decisions.
Our law firm provides general law services, including: Estate Planning, Wills,Trusts, Probate, Health Care Proxies, Powers of Attorney, Living Wills, Tax and Probate Avoidance, Elder Law, Guardianships, Conservatorships, Medicare, Medicaid and Assisted Living, Adoptions, Family Law, Domestic Relations, Divorce, Business and Corporate Law, Incorporating, Limited Liability Company, and Debt Collection, Real Estate Law, Contracts, Deeds, Notes, Mortgages, Personal Injury.
P.O. Box 1600
Mountain Home, AR 72654