Twin Lakes Community Foundation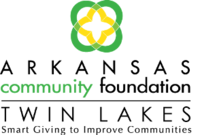 TLCF offers tools to help Arkansans protect, grow and direct their charitable dollars as they learn more about community needs. We help meet community needs by making grants and sharing knowledge. We support programs that work and partner to create new initiatives that address the gaps. We are here for the long-term to help you improve your neighborhood, your town and your state.
Twin Lakes Community Foundation is a local office of Arkansas Community Foundation, covering Baxter, Fulton, Izard and Marion Counties.
Contact: Kimberly Jones-Executive Director