Yellville Chamber of Commerce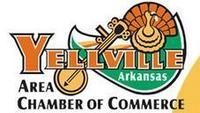 The Yellville Area Chamber of Commerce welcomes you to Yellville, Arkansas, Home of The Famous Turkey Trot, located in Marion County and the heart of the Ozark Mountains. The area is unsurpassed in beauty with an abundance of streams, mountains, trees, rivers, and the lake, along with a variety of wild life. Each season offers its own special contribution to the beauty of the area. Recreational choices are abundant, and sightseeing is a must any time of the year.
Yellville is the gateway to the beautiful Buffalo National River. It is located approximately 10 miles from the White River, famous for its trout fishing. Bull Shoals Dam and its crystal clear lake are located in Marion County and offer boating and other water sports. Crooked Creek meanders through Marion County and Yellville on its way to the White River. Experience a floating/fishing trip on the Buffalo National River, White River, or Crooked Creek. Contact one of our outfitters for fun and relaxation on the rivers or creek.
If you are interested in sightseeing, take the driving tour along Bull Shoals Lake or scenic Highway 14. Hiking trails are abundant in the Buffalo National River, and horseback and mule back riding trails are also available. For an overnight or extended stay in the area you will find cabins, motels and quaint cottages nestled in the Ozark Mountains. When you're hungry the area's restaurants provide the cuisine and atmosphere of your choice.
Mailing Address:
P.O. Box 369
Yellville, AR 72687