Jamie's Restaurant: Serving Local Flavors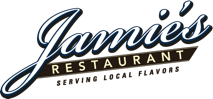 Chef Jamie Akers and his family-operated businesses have been serving the best barbecue, gourmet plated meals, creative buffets, and farm-to-table cuisine for over ten years to the community of the Ozarks.
Hours:

Closed on Mondays
Tuesday to Thursday 11am to 8pm
Friday and Saturday 11am to 9pm

Sunday 11am to 3pm




HOW IT ALL STARTED
Executive Chef Jamie Akers has served everyone from corporate executives to the Oak Ridge Boys. Prior to launching Jamie's Creative Catering, Jamie served as Executive Sous Chef at Big Cedar Lodge for 13 years, also working at Top of the Rock restaurant, for a total of 15 years experience at Big Cedar Lodge. It was at Big Cedar Lodge Jamie was able to hone his skills to become one of the most recognized chefs and caterers in the Ozark Mountain region. Trained and Certified from the Culinary Institute of America in Napa Valley, Jamie brings a wealth of experience and culinary genius to every event. Jamie has been working in the food service industry for more than 25 years and has been catering for 10 years. Jamie and Angela purchased The Cove restaurant in Diamond City, Arkansas in 2005 as a starting point for their small family business. Next, they brought their restaurant expertise to Harrison where they opened John Paul in the Hotel Seville, and expanded to add Jamie's in 2014 at a separate location. One of their latest endeavors is a spinoff restaurant called Bucket's Sport Bar and Grill. Make sure to stop by any of Jamie's local restaurants for a hot meal sure to impress everyone at your table!